Chicken tinola has been my all time favorite soup.  It brings me so many childhood memories from way back.
I grew up in the province in the middle of a corn farm and we had plenty of chickens in the backyard.  We would just feed the chickens in the afternoon and my father or mother would ask us to catch chicken for our dinner.
So basically, I know how to cook Chicken Tinola Recipe (Tinolang Manok with Papaya and Chili leaves) since I was young.
Chicken Papaya Soup Ingredients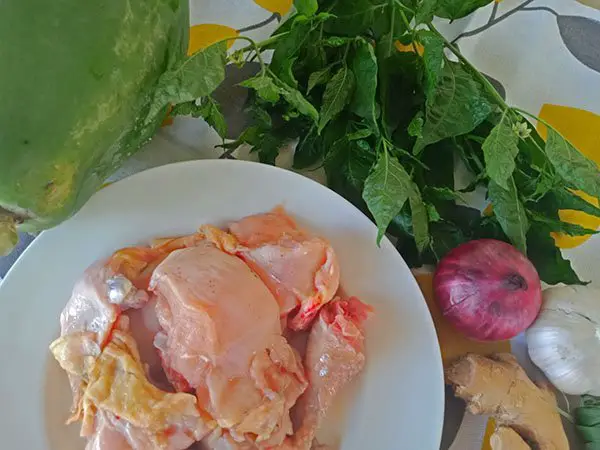 Tinolang Manok recipe has just simple ingredients. Of course, the star of this dish is the chicken.
When I cook chicken tinola, I always use organic native chicken because they are much tastier and more delicious.
Other ingredients include green papaya.  If you don't have the green papaya, you can substitute it with sayote or chayote squash.  If you don't have these two, you can just actually omit it as long as you have the greens.
Then you have chilli leaves to make it more nutritious.  If you do not have the chili leaves, you can substitute it with malunggay leaves or moringa leaves.
When I was cooking this, the available chilli leaves that I harvested in my home garden is just small, so I added my baby moringga from my garden because my kiddos love these greens whenever I cook tinola.
To make my chicken tinola more aromatic and tasteful, I added lemon grass that I still got from my home garden (yes, the benefits of home gardening :-)) .
Aside from those main ingredients, you have your usual spices like garlic, onions, ginger to saute the chicken.  I added a little bit of corn pepper for this recipe.
My Version of Chicken Tinola Recipe (Tinolang Manok with Papaya and Chili leaves)
My style of cooking chicken tinola has evolved from when I was young.  This marinated version is what I learned from my sister when I go home to the province and I adopted it since it is delicious.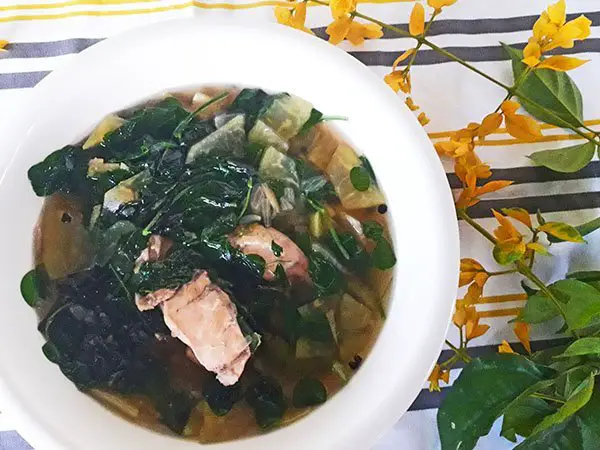 The picture above is my finished chicken tinola.  I sliced the papaya in small pieces so that it will be cooked faster.  If you want your papaya to have bigger slices, you may do so. The greens is actually a mixture of chilli leaves and baby moringa leaves.
Recipe FAQs
What can I substitute with the green papaya?
You can use chayote squash or sayote instead of green papaya if you don't have one available for your chiken tinola.
How Long does Tinolang Manok last in the freezer?
If you have leftover, chicken papaya soup can last up to 5 days in the freezer.  You just put it in airtight food container and then reheat it when you want to eat it.
What other Vegetables can I add to  my Chicken Tinola?
There are other options you can add to your tinola.  You may add bok choy, peachay and spinach. You may also add lemongrass to your tinola to make it more palatable and aromatic.
You may use Malunggay/moringa leaves for your chicken tinola.
Tinolang manok with malunggay is a popular dish especially served to new lactating mothers.
It is nutritious and its ingredients like the ginger, malunggay leaves, green papaya are known to help augment milk production for new mothers.
What are tinolang manok health benefits?
Tinolang manok is a great source of protein.  Additionally, greens in your tinola especially malunggay leaves is rich in vitamins and antioxidants.
Moreover, lemongrass in your tinola is rich in antioxidants and has anti-inflamatory, anti-microbial and antidepressant properties.
What to serve with tinolang manok?
Filipinos usually serve it with rice or corn.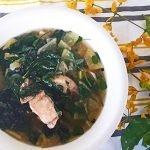 Print Recipe
Chicken Tinola Recipe (Tinolang Manok with Papaya and Chilli Leaves)
Chicken Tinola is a delicious soup that is perfect for lunch or dinner. It is so filling and comforting.
Ingredients
1/2

kg

Sliced chicken

1

cup

Chilli leaves

1

pc

Green Papaya

medium size, chopped

5

cloves

Garlic

1

pc

Onion

medium size, chopped

1

pc

Ginger

medium size, minced

8

pcs

Corn Pepper

1

tbsp

Cooking oil

1

tbsp

Soy sauce
Instructions
Before starting to cook, marinate the chicken with 1 tbsp soy sauce, a pinch of salt, corn pepper, a little garlic and onions. Set aside for 5-10 minutes.

In a pan, sautee the garlic and onions.

When garlic and onions turn a little brown, add the chicken including its marinate sauce and spices.

Saute it for around 2-3 minutes until natural oil of the chicken comes out.

Add 3-4 cups of water and bring it to a boil.

Add the green papaya. and bring it to a boil again.

Season the soup with a pinch of salt and a tablespoon of sugar. You may substitute the sugar with knorr chicken broth cubes if you want. Adjust the taste to your liking.

Add the lemon grass and taste the chicken meat if it is already tender.

If chicken is done and the soup is already yummy, add the chilli leaves and/or malunggay leaves. Bring it to a boil and it is done.

Transfer it to a soup bowl and serve while it is warm. It is best complimented with rice.
Follow us on:
Pinterest | Twitter | Facebook | Youtube