This chicken adobo recipe is very easy to make and would surely be a click to your lovey doveys when served on the table.  It is simply delicious.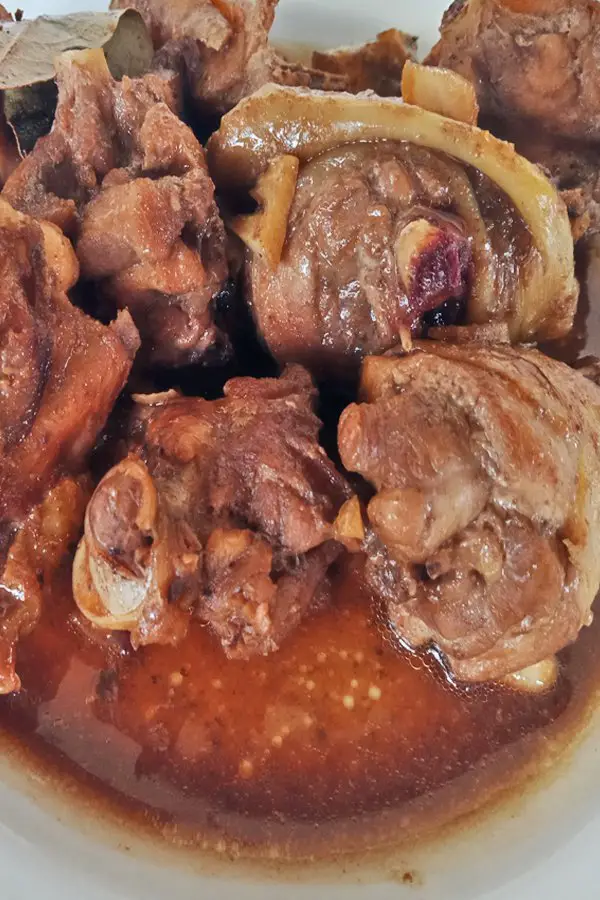 What is Adobo?
Adobo is one of the famous foods Pinoys are known for. While unofficial, it is considered the national food of the Philippines.
There are many regional variations in the way adobo is cooked but the basics remain the same. It is a Filipino traditional dish using chicken, pork or vegetables marinated in a mixture of soy sauce, white vinegar, sugar, garlic, peppercorns and bay leaves. The meat is browned and then  simmered on the marinate until it becomes tender and ready to be served.
Why I Love Adobo
I love adobo because of its delicious taste. Aside from that, you can make it in big batch and you can put it in the fridge for days. You can just thaw it or reheat when you want to eat it again.  The longer time you eat it, the better-tasting it becomes because the marinate and the spices is already absorbed by the meat making it more tastier.
Chicken Adobo Ingredients
Chicken adobo recipe has simple ingredients.
Chicken
Soy Sauce
Salt
Vinegar
Brown Sugar
Whole Peppercorn
Garlic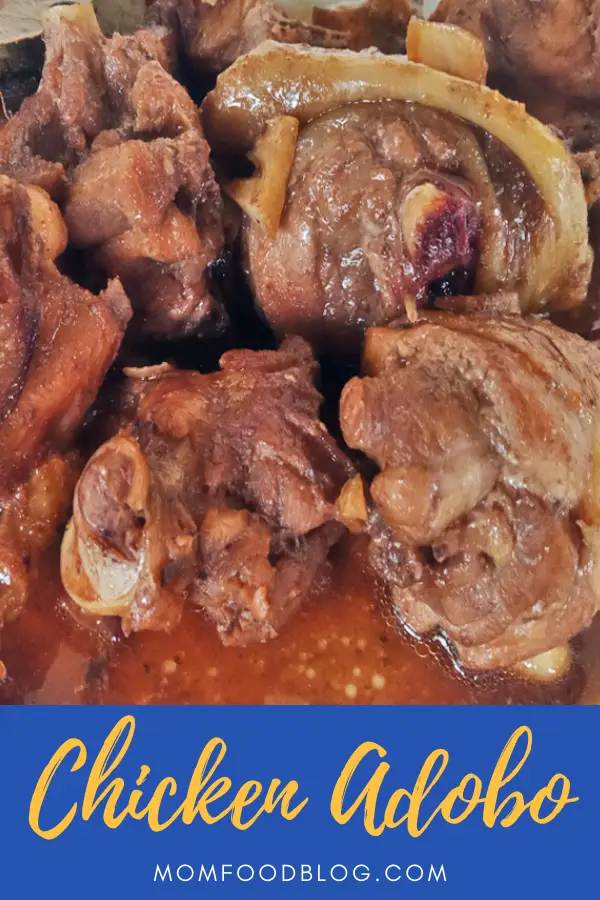 Sharing to you my Chicken Adobo Recipe.  Enjoy!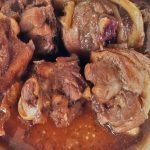 Print Recipe
Chicken Adobo Recipe
Chicken Adobo is a delicious recipe famous in the Philippines
Ingredients
1/2

kilo

Chicken

5

cloves

Garlic

1/2

tbsp

Whole Peppercorn

5

pcs

Dried bay leaves

1

tbsp

Brown sugar

1/4

cup

Soy sauce

1

tsp

Salt

3

tbsp

White vinegar
Instructions
Combine the soy sauce, sugar and garlic

Add the chicken to the mixture. Marinate it for 1 hour. You may also put it in the fridge overnight.

Heat the pot and cook the chicken until it becomes brownish.

Put the marinate sauce, peppercorn, bay leaves and add 3 cups of water.

Add 3 tablespoons of vinegar and simmer for 30 minutes to 1 hour until sauce is reduced to your desired consistency.

Serve hot and enjoy. Better served with rice.