Steamed Trevally fish is one of my favorite dishes.  It is delicious and easy to make.
I have been trying to eat healthy and evade as much as I can on eating red meat.  Although  I sometimes eat meat when I dine out with some business associates.
My morning meal usually consist of oats topped with fresh fruit like banana, mangoes or whatever fruit is at hand.  When lunch time comes, I eat rice  usually complimented with fish or cooked veggies.  Dinner is time for fresh fruits like pineapples, papaya, watermelon or whatever fruits that are in season for the very simple reason that when supply are plenty, these fruits become so affordable and so it is time to binge on them.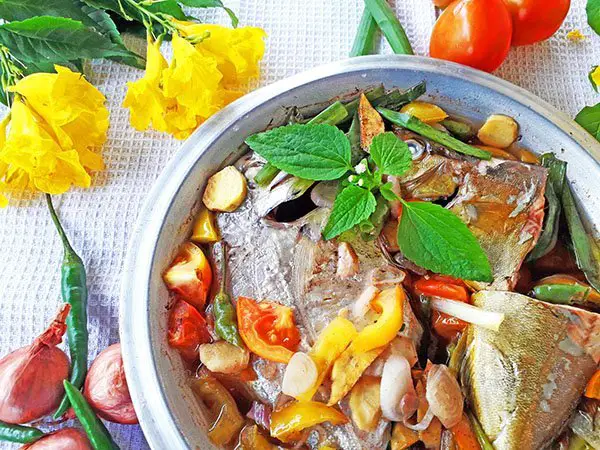 5 Ways on How to Choose Fresh Trevally Fish
I usually buy fish in the wet market because it is more fresh to source it from there.   Aside from that, it is also cheaper compared when buying it in supermarkets like in the malls.  My number one criteria when buying fish is that it must be fresh.  It is non-negotiable for me.  I am willing to pay higher price for a fish as long as it is fresh and its quality is not compromised. So here are some tips to know if the fish is fresh.
1. Check the overall look of the fish.  Then Check on the eyes if is bright and not red.
2. Look into the fish gills.  It should be reddish, not grayish or brownish.
3. Touch the body of the fish.  It must be firm.
4. The skin must be bright and the flesh sturdy and stiff.
5. The  belly must be in tact.
Steamed Trevally Fish
This recipe is what I call the lazy method of steaming. Why? Simply because I just put all the ingredients at once with the fish and put it in the steamer and after a few minutes, it is done.
Here are the ingredients of this recipe:
Fish ( trevally) – I use Trevally fish for this recipe.  However, you may substitute it with other fishes you may have like snapper, pompano, etc.
 Tomato
Red onions
 Ginger
Scallions
Black pepper powder
Soy sauce
Oil
Chili Pepper
Salt
Sharing to you how I cook my Steamed Trevally Fish.  Enjoy eating!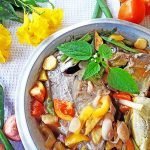 Print Recipe
Steamed Trevally Fish
Steamed Trevally fish is a delicious recipe with simple ingredients and easy to make.
Ingredients
2

pcs

Trevally Fish

medium size

1/2

glass

Water

2

pcs

Tomatoes

medium size

1

pc

Red onion

1

pc

Ginger

3

pcs

Chili pepper

pinch

Black pepper powder

pinch

Salt

3

drops

Cooking Oil

1

tbsp

Soy sauce
Instructions
Put the chili pepper. If you want it spicy, slice some of the peper.

Add a pinch of black pepper powder

Add a teaspoon of soy sauce

Drizzle 3 drops of cooking oil.