Pork Sinigang or Sinigang na Baboy is my go-to recipe when I want to have a hearty soup.  It is also a favorite in the family.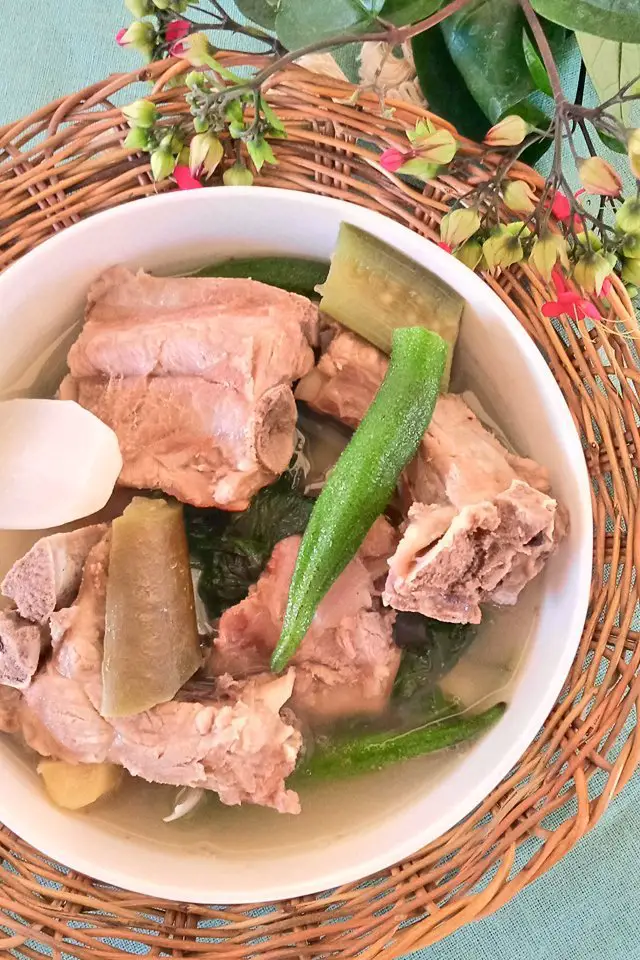 Pork Sinigang is just very easy to make.  It is just like you are cooking tinola but the difference is its sour broth courtesy of some souring agents such as tamarind, guava, kamias and others.
What is Pork Sinigang
Pork sinigang is a pork sour soup recipe native to the Philippines. It is mixed with vegetables and tamarind to make the soup sour. Other souring agents may be used as well such as bilimbi fruit or kamias, guava, green mango, santol and calamansi.
Pork ribs and belly are the best parts for cooking sinigang.
Ingredients
Pork Sinigang  has simple ingredients that are very easy to source. Of course you must have pork.
I personally prefer pork ribs because the bones gives it a more tasteful broth.  Then you have your radish, eggplant, taro which is optional.  I just love to have the taro in it because it adds creaminess to the broth.  You may also add lady finger or okra and then your greens that is kangkong.  You may substitute kangkong with pechay, bok choi or even green cabbage if you want.
List of ingredients for Pork Sinigang (Sinigang na Baboy)
Pork ribs – You can substitute this with pork belly or pork hocks if preferred.
Radish
Eggplant
Taro
Kangkong leaves – You may substitute kangkong leaves with pechay, pak choi or cabbage.
Salt
Tomato
Ginger
Onion
Knorr Sinigang Mix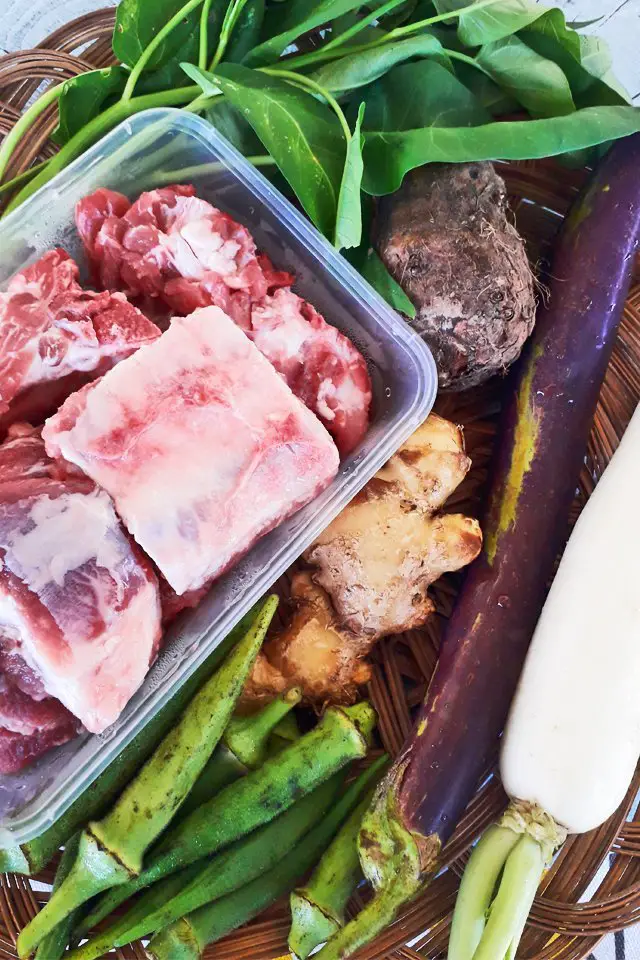 What is the best Pork Part for Sinigang na Baboy
Pork ribs or buto-buto.  I personally love pork ribs for my sinigang because they are so flavorful.
Pork Belly. Pork belly is another great pork part perfect for sinigang.  The alternate of lean meat and fat makes it ideal for this dish.
Pork hock or pata. This is part is also good for sinigang because it has a combination of lean meat and a bit of fats.  It is yummy for sinigang.
Is Pork Sinigang Meal Prep Ready
Yes.  You can make ahead Pork sinigang and enjoy it for later.  Just put it in a close container and then put in the freezer.  Just reheat it once you wanna enjoy it.
Moreover, you may add some fresh greens like pechay and cabbage to add vibrancy to this dish.  You can store it in the fridge for up to 5 days.
Sharing to you this recipe.  Enjoy!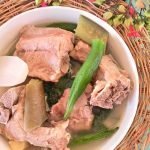 Print Recipe
Pork Sinigang Recipe (Sinigang na Baboy)
Pork Sinigang or Sinigang na Baboy is my go-to recipe when I want to have a hearty soup.  It is also a favorite in the family.
Ingredients
800

grams

Pork ribs

cut into pieces

1

pc

Radish

medium size, sliced

1

pc

Eggplant

medium size, sliced

1

pc

Taro

small, sliced

pinch

Salt

1

bundle

Kangkong (water spinach)

1

pc

Tomato

sliced

1

thumb

Ginger

sliced

1

pc

Onions

medium size, sliced

1

tbsp

Knorr Sinigang Mix
Instructions
Put 6 cups of water in a pot and bring to a boil.

Add the pork ribs. Skim fat as needed. Simmer for 10 minutes

Add the radish, onions, ginger and tomatoes and long chili pepper. Cover the pot and cook for 2 minutes.

Add a pinch of salt and the knorr sinigang mix. Let it simmer for 3-5 minutes in medium heat. Adjust taste to your liking.

Transfer to a serving bowl and serve immediately. Enjoy!