Tinolang Isda (Fish Ginger Soup) is perfect for lunch today.  It is pouring heavy rain in my place.  Classes and work are suspended due to tropical depression in my area.
So we are lazing around the house and I've got matambaka (big-eye scad fish) in the fridge.  What better way to cook it than having  a soup?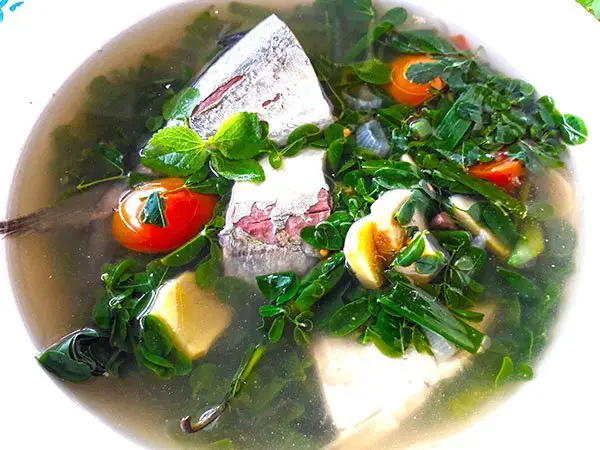 Tinolang Isda (Fish Ginger Soup)
Popularly known as tinolang isda in my country, this style of cooking is fast and very easy that is why this is very common way of cooking fish.  Fish is the star in this dish and it is cooked in water mixed with tomatoes, ginger, onions, scallions and added with lemongrass and chili for a more aromatic and tasteful result.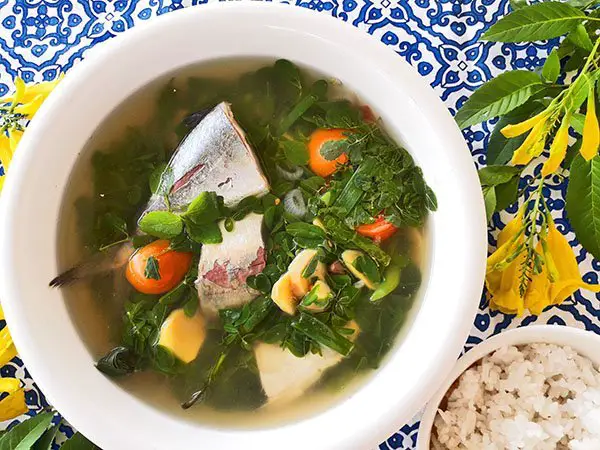 In this recipe, I added baby moringa leaves which is available in my home garden including lemongrass.  Other green leafy vegetables can be a substitute like spinach, pechay, water spinach or even green cabbage. Several other fishes can be a substitute as well in cooking this dish as long as they are fresh.
Best Fishes for this kind of Tinolang Isda (Fish Ginger Soup)
1. Matambaka or Big-eye scad fish
2. Tuna or blue marlin
3. Milkfish
4. Pompano and other fishes locally known as isda sa bato like snappers, jack/talakitok.
Ingredients
This recipe has very simple and easy to find ingredients.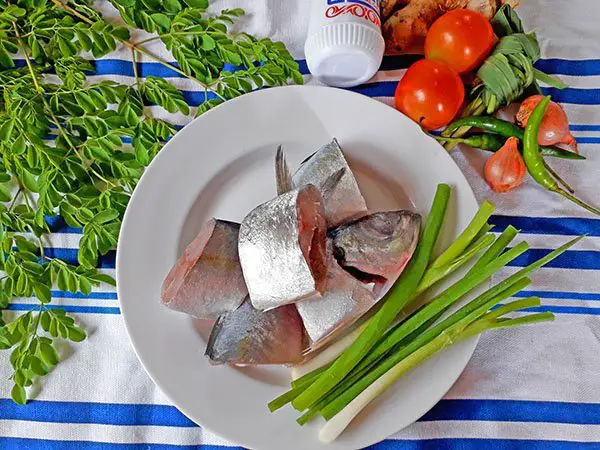 Fish (I'm using matambaka or big-eye scad fish)
 Tomatoes
Ginger
Onions
Malunggay Leaves (You may substitute whatever green leafy veggies available to you)
Lemongrass
Scallions
Salt
Sharing to you this Fish Ginger Soup Recipe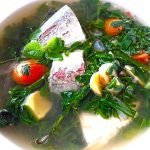 Print Recipe
Tinolang Isda (Fish Ginger Soup)
Tinolang Isda (Fish Ginger Soup) is a simple and easy to cook recipe wherein fish is mixed with tomatoes, ginger and other spices added with green leafy vegetable.
Ingredients
2

lbs

Matambaka or big-eye scad fish

sliced in desired size

2

medium size

Tomatoes

ripe and sliced in wedges

1

medium size

Ginger

peeled and sliced

2

small size

Onions

peeled and sliced

2

stalks

Scallions

cut in 2 inches

1

cup

Malunggay leaves

cleaned and stalks removed

3

pcs

Chili pepper

4

cups

Water

1

teaspoon

Salt

1

stalk

Lemongrass
Instructions
Put 4 cups of water in a soup pot. Let it boil.

Add the tomatoes, ginger, onions. Cover and let it cook for around 3 minutes.

Add the fish followed by the malunggay leaves and lemongrass.  Soak the leaves in the water. Let it reboil in a slow to medium heat.

Add the scallions, chili pepper and salt to taste. Mix and stir and boil for 2 minutes

Transfer to a serving soup bowl and serve it while warm. It is best complimented with rice.
Notes
Do not overcook the malunggay leaves for it will turn a bit bitter. Do not also overcook the fish for the bones will scatter and mix into your soup.
You may add seasonings like broth cubes or msg for added flavor if you want.  I did not add these to my recipe because the flavor is enough for me.