Do you love air fryer zucchini recipes?  If you do, you are not alone.  Air fried zucchini is  healthy, easy and quick side dish or snack you can whip up that can be done in just few minutes.
Zucchini is so versatile because of its mild taste.  It absorbs the flavors of whatever you put it with.
I was looking for simple and easy zucchini fries recipe then moved into the stuffed ones. I realized there are many options you can   do with this vegetable in the air fryer.
So, without further delay, let's go dive in.
1. Air Fryer Zucchini Fries
This Zucchini fries in the air fryer is healthy and crispy.  It can be cooked in under 10 minutes.
That makes this perfect for snacking or side to a lovely meal. The panko breading makes it crispy on the outside yet soft inside.
Dip it with your favorite condiment – either ketchup, mayo, mustard, marinara sauce or whatever you want.  You do you.
---
2. Air Fryer Zu8cchini Parmesan Crisps
Zucchini with parmesan is such a perfect pair.  Enhance it with the flavors of garlic powder and a simple salt and pepper.
Makes this easy Zucchini rounds bursting with flavor.  Oh, and they are so healthy too.  No need to feel guilty enjoying your cravings fix.
The texture and the flavor makes this recipe perfect for the whole family to devour.
---
3. Air Fryer Zucchini Noodles (Zoodles)
Zucchini noodles or zoodles is so fun to make.  Toss them with your favorite sauce and you will get unassuming flavors.
This is a great pasta alternative and you can definitely make it one of your lighter dinner options.
The simple ingredients that are just pantry staples makes it easier to put together.
---
4. Air Fryer Zucchini Chips – No Breading
You want a no breading air fryer zucchini? If yes, then this one is for you.
Make this as an appetizer to a meal, a snack or side dish.
This recipe is different from most air fryer zucchinis because it has no breading.  So they are fast to make.
This zucchini chips in the air fryer is healthy, crunchy and so addicting.
---
5. Air Fryer Zucchini Chips No Oil
Another healthy air fried zucchini recipe is this no oil zucchini chips.
This recipe is wholesome, low carb and low fat as it has no oil and no breading.
This recipe may appear simple but it is  flavorful, thanks to the garlic powder, oregano and lemon.
---
6. Air Fryer Zucchini Fritters  – Keto and Low carb
Got plenty of zucchinis from your home garden? This easy and yummy zucchini fritters is one of the various ways you can enjoy your zucchinis.
They just take few minutes for you to make.  No need to heat the whole kitchen because you are doing it with your trusty air fryer.
The best thing about this recipe is it is healthy.  It is low carb and keto, grain free and gluten-free.  Awesome!
---
7 . Air Fryer Taco Stuffed  Zucchini Boats
Do you love tacos? I bet you do.
Gather your favorite taco seasonings and toppings. Turn it into this taco stuffed zucchini boats and you will have a meal or heavy snack in no time.
Meal-prep it ahead of time so you can just reheat it and have a meal on the go for busy days of the week.
You can customize the flavors the way you want it.  Your options are limitless.
---
8. Air Fryer Buffalo Chicken Zucchni Skins
Ahh, the goodness of buffalo sauce.  The mere thought of it makes me drool.
Make your meal healthier by putting your buffalo chicken on top of zucchini skins.  You can make the chicken ahead for faster cooking.
This recipe is simply amazing.
---
9. Air Fryer Zucchini Stuffed with Hamburger
Elevate the flavor of your humble zucchini by making this air fryer zucchini boats with hamburger.
The next time you get zucchini from your local farmer's market, make this delicious zucchini recipe flavored with Italian seasonings.
It is flavorsome and delicious.
---
10. Vegan Zucchini Fries in Air Fryer
If you are following a plant-based diet, this air fried zucchini is perfect for you.
It has few needed ingredients and you can make it in under 15 minutes.
---
11.  Zucchini Tots in Air Fryer
If you want your kiddos love veggies, make them into small, fun sizes just like this air fried zucchini tots.
Make it flavorful by adding seasonings just like the way this air fryer zucchini recipe is made.
---
12. Air Fryer Zucchini Chips with Vegan Basil Aioli
Instead of munching on unhealthy snacking foods, you can make this Zuchinni chips with vegan basil aioli as a substitute.
This crispy  zucchini chips is easy and quick to make.  Dip it in a mayo,  basil and garlic combo and you'll have a blast.
---
13. Air Fryer Chocolate Zucchini Bread
Did you know that you can make delectable dessert with zucchinnis? And you can make it with an air fryer?
Take a look at this air fryer chocolate zucchini bread.   It can be done in just 30 minutes.
Depending on your air fryer, you may use mini loaf pan to be able to bake it in the air fryer.  You can also infuse ingredients of your preference if desired.
---
14. Air fryer Shrimp Zucchini and Peppers
Add some protein to your air fryer zucchini by adding shrimps to it.
You only need few items to put together this recipe.
This is a complete meal on its own and a healthy option to help you in the path of your health goals.
---
15. Air Fried Stufffed zucchini flowers
Do not throw away those zucchini blossoms you have.  You can turn them into stuffed zucchini flowers just like this recipe.
---
16. Air Fryer Healthy Zucchini Corn Fritters
The goodness of summer produce makes this air fryer zucchini more appetizing.
Add corn to your zucchini fritters and you will have a delightful snack or meal.
---
17. Air Fryer Salt and Vinegar Zucchini Chips
You can make zucchini in the air fryer so simple without compromising its taste.
This salt and vinegar zucchini chips is a sure fix to your chips cravings.  But it is healthier and can be done in just few minutes.
---
18. Air Fryer Cheesy Baked Zucchini Casserole
Saving the best for last on this list is this tasty and delectable casserole .  It is an  awesome addition to the many ways you can enjoy zucchini.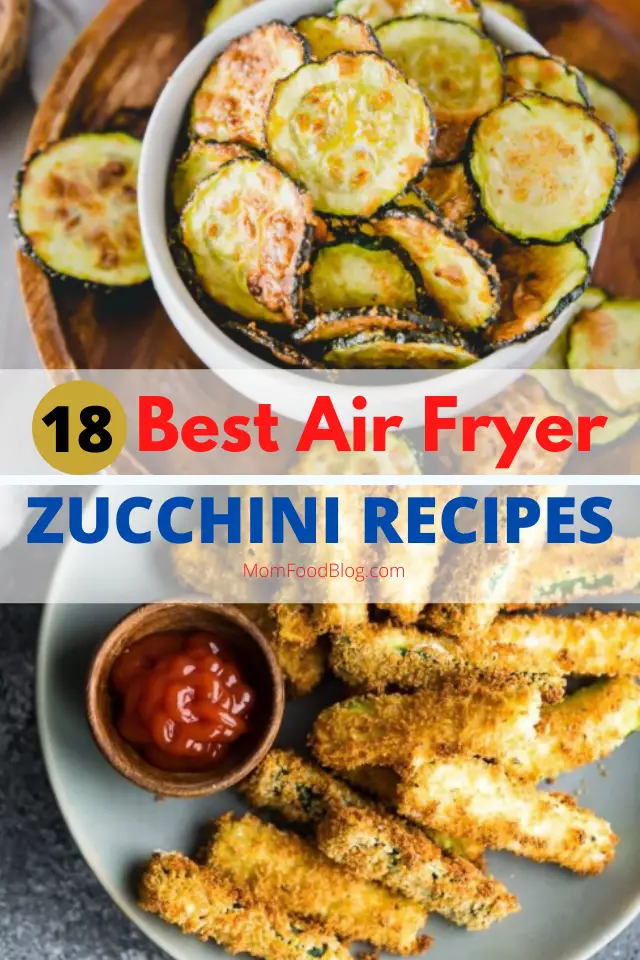 18 Best Air Fryer Zucchini Recipes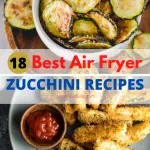 Print Recipe
18 Best Air Fryer Zucchini Recipes
List of 18 best air fryer zucchini recipes. From chips, fritters to zucchini boats and even bread. We got you covered.
Ingredients
Air Fryer Zucchini Fries
Air Fryer Zucchini Chips – No Breading
Instructions
Choose the zucchini recipe you would like to make.

Gather and prepare the ingredients.

Make a delicious air fryer zucchini recipe.
Have you tried making one of these recipes? Go try one of them now.