I have always been experimenting and looking out for delicious and healthy foods to serve for my family.  There is saluyot or jute plant that grows in my garden so I figured out how to cook it.  My husband suggested that it is a delicious plant for salad which he confessed he likes a lot.  He tasted it in one of the carenderias  he used to frequent to.  So here is my delectable saluyot (jute) salad recipe.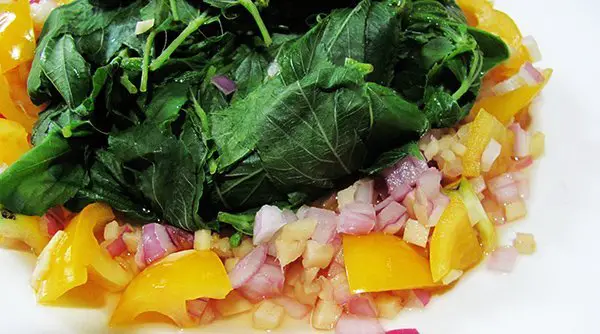 Saluyot (Jute) Salad Recipe
Ingredients:
2 cups of blanched saluyot or jute leaves
medium size ginger
medium size onions
1 teaspoon sugar
1/4 cup vinegar
2 medium size tomatoes
3 lemons
salt
chili or chili powder (optional)
Procedure:
Blanch the saluyot leaves by putting it in a boiling water just about 10 seconds.  To make your saluyot not so slimy, add 1 teablespoon of vinegar on the boiling water before blanching the saluyot leaves in it. Set aside the blanched saluyot.
Chop finely the ginger, onions, and the tomatoes.  In a small cup, add the vinegar and sugar. Mixed it well.  Then add the squeezed lemon juice.  Add salt to taste.
In a bowl, add the mixture of the vinaigrette, the ginger, onions and tomatoes.  Mix all together. Then add the blanched saluyot.  If you want it to be spicy, you can add chili locally known as siling labuyo or chili powder.
Saluyot Health Benefits
According to Philippine Herbal Medicine, saluyot plant has a number of health benefits.   It contains beta-carotene which is good for the eye sight.  Its iron and calcium content necessarily aids a person in maintaining strong bones and teeth, and a healthy count of red blood cells. Saluyot has been used to reduce wrinkles, as it also contains anti-oxidant substances. Studies have also shown that saluyot can be used for anti-inflammatory treatment.
It is to be noted that saluyot has been used traditionally to address concerns related to inflammation and pain, and the results of recent studies confirmed the validity of such traditional practice. In the same manner, saluyot has also been connected with curing the chronic inflammation of the urinary bladder. To prepare its medical decoction, an individual is advised to eat dishes and soups that contain saluyot. As to the dosage or the amount of intake that one should have, recent studies have not been able to establish this yet.
Why I love Saluyot (Jute) Salad Recipe
Aside from the fact that this recipe is easy to prepare, it is very easy on my pocket as well.  Since I grow my own saluyot in my garden, all I have to spend on are some of the spices and a little on other ingredients. My family loves it too.
Healthy food + delicious food +  not so expensive recipe  = Savings on food expense ( Score!)
There you have it guys, my easy to prepare, delicious and healthy saluyot (jute) salad recipe!