Ginisang Kangkong with Sardines is a variation of the many ways Kangkong (water spinach) can be cooked. It also gives the otherwise boring sardines a pump and a healthier and more nutritious mix.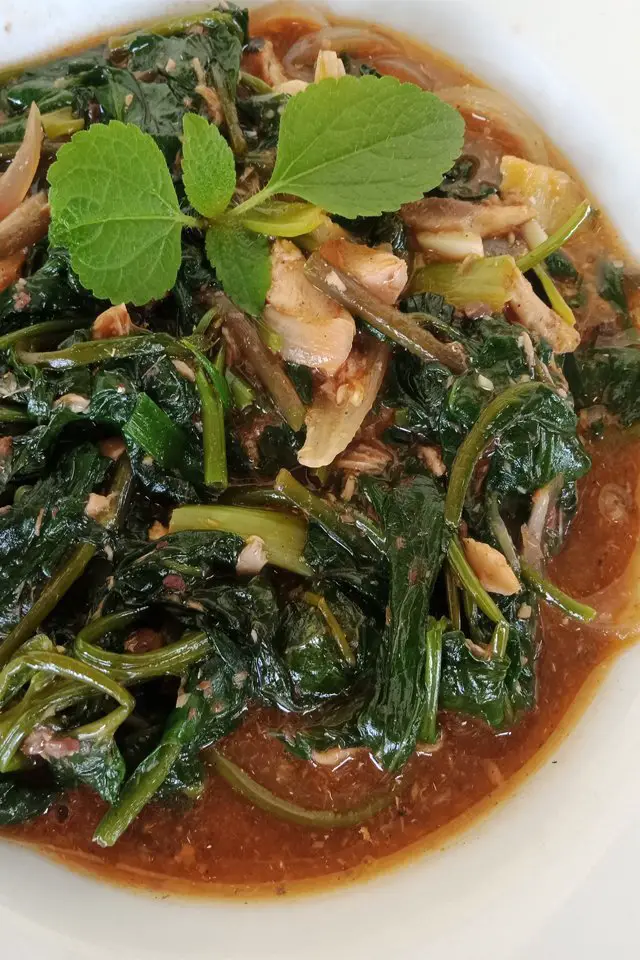 Ginisang Kangkong with Sardines
There are times that I want to have a quick and easy to cook meal especially when I get really busy.  So, I often stack canned sardines and other quick cooking goods in the pantry.  This is for me to avoid going to the neighborhood store where prices goes insanely high.
What are Sardines
Sardines or pilchards are small fish that belongs to the herring family.  This fish is nutrient-dense with omega-3 fatty acids, protein and  virtually any essential vitamin and mineral.
It is usually canned, mixed with tomato sauce, or smoked, grilled or pickled.    However, you can also find them fresh in the market.
I often find them in my local market but I personally prefer the canned ones because I love the sauce that goes with it, plus I can choose those hot and spicy ones that I personally love. When it is canned, I also get to eat everything, including its bones.
Nutrition and Health Benefits of Sardines
Why sardines is good for you? There are a number of nutrition and health benefits of eating sardines.
Source of Omega-3 fatty acids.  Perhaps this is the most known benefit of eating sardines.  This omega-3 fatty acids has anti-inflammatory effects of the human body.
Rich in Protein. Our body needs sufficient protein for it is necessary in our body's repair of its cells and muscles.
Great source of Vitamin D. Vitamin D or sunshine vitamin is hard to acquire in foods, and sardines are one of the best sources of this vitamin. Vitamin D aids in our bone growth.
Ginisang Kangkong with Sardines Ingredients
This recipe has very simple ingredients and some are readily available in your kitchen.
Canned sardines
Kangkong leaves or Water spinach
Garlic
Onions
Tomatoes
Ground Pepper
Soy sauce
Brown Sugar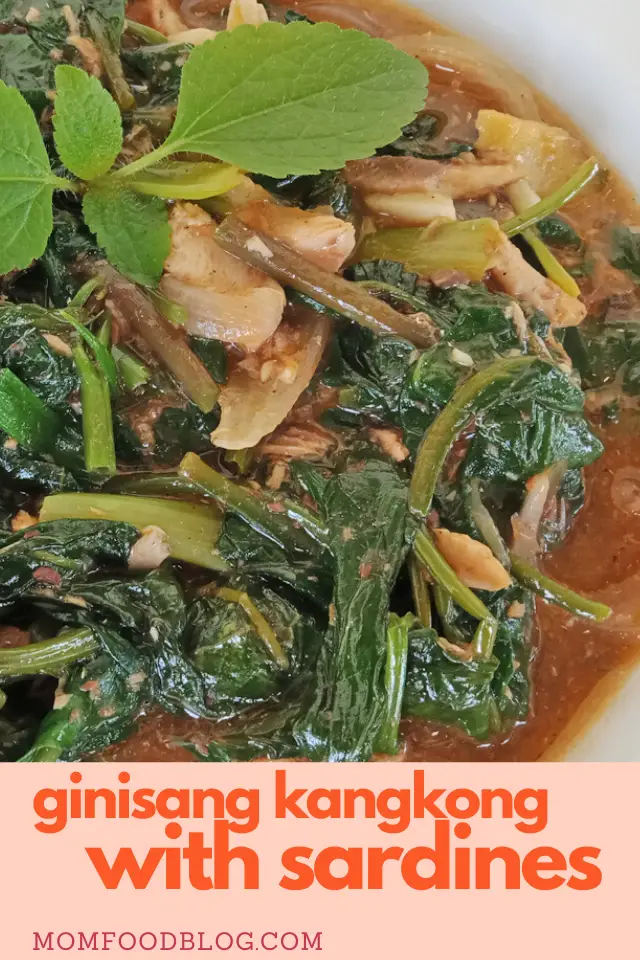 Sharing to you my simple and easy to make Ginisang Kangkong with Sardines Recipe.  Enjoy!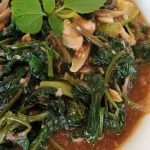 Print Recipe
Ginisang Kangkong with Sardines
Ginisang Kangkong with sardines is an easy and quick to make recipe that is nutrient-dense and delicious.
Ingredients
1

bundle

Water Spinach or Kangkong Leaves

1

can

Sardines

any brand, hot or regular flavor

1

tbsp

cooking oil

1

medium size

onion

chopped

1

pc

large tomato

5

cloves

garlic

pinch

ground pepper

1

tbsp

soy sauce

1

tsp

sugar

pinch

salt

1

cup

water
Instructions
Put the wok in a medium to low heat.

Saute the garlic, onions and tomatoes

Mix it well then add the ground pepper, a pinch of salt, and soy sauce and the sugar.

Taste it and adjust seasonings to your liking

Let it simmer for 2 minutes

Once the leaves are done and the taste is perfect to your palate. Take it off from the heat

Transfer to a serving bowl and serve right away.
Notes
You can substitute sugar with msg or knorr seasoning mix.